21 Dec: It always feels good to finish a first draft. Only half the work is done, but it's the tougher half. I now have three novels in various stages of completion. Details (and probably novels) will be coming throughout the course of 2017.
---
18 Oct: Here's Paul Grogan's video overview of Adrenaline.
---
10 Oct: I'm back from the Great Falls Gaming Rendezvous. I had a great time. Met lots of old and new friends and even got to try a few new games.
---
6 Oct: The Adrenaline Rulebook is up at BoardGameGeek.com. Now you can see what I've been working on the last two months.
---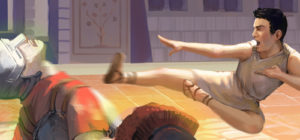 29 Sep: Higomu appears in a short story at Swords and Sorcery Magazine. You can read it now for free!
---
Thank you for your interest in my website.
If you would like to contact me, send e-mail to jah at this address (JasonAHolt.com).