18 Oct: Here's Paul Grogan's video overview of Adrenaline.
---
10 Oct: I'm back from the Great Falls Gaming Rendezvous. I had a great time. Met lots of old and new friends and even got to try a few new games.
---
6 Oct: The Adrenaline Rulebook is up at BoardGameGeek.com. Now you can see what I've been working on the last two months.
---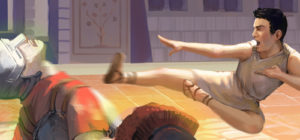 29 Sep: Higomu appears in a short story at Swords and Sorcery Magazine. You can read it now for free!
---
14 Sep: Hard at work getting games ready for Essen. CGE has the list of games up in case you want to take a peek at what I've been working on.
---
18 Aug: The Alien Technologies expansion is out for the Galaxy Trucker app. I had a lot of fun writing the dialogues.
---
12 Aug: Still recovering from GenCon. I guess my adrenaline was a little high. I had a great time and learned a lot at the GenCon Writers Symposium. Now it's time to work on secret projects that are coming out at Essen.
---
18 Jul: Codenames won the Spiel des Jahres!
---
1 Jul: I'm a finalist for the 2016 Baen Fantasy Adventure Award!
---
Thank you for your interest in my website.
If you would like to contact me, send e-mail to jah at this address (JasonAHolt.com).