31 May: I just got back from MisCon! I got to show people some new board games, and I got to do a bunch of fun panels on Sunday. Also, I met a lot of cool people, so it was a great trip.
---
24 May: If you want to know all about how I got the gig writing Galaxy Trucker: Rocky Road you can check out an interview at JoinTheSaga.com.
---
28 Apr: You can find a sneak peek into the first chapter of Galaxy Trucker: Rocky Road on CGE's news page.
---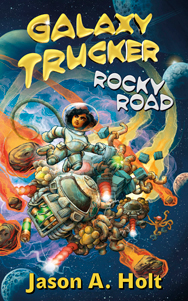 27 Apr: Galaxy Trucker: Rocky Road is coming out for International Table Top Day. You should be able to find it at your local game store.
---
31 Mar: Happy Birthday to Czech Games Edition. CGE is now ten years old with 20 games and 14 expansions. I've worked on the English-language rules for every one of those projects, and it's a lot of fun.
---
7 Mar: Codenames: Pictures won the Golden Geek Awards for best family game and best party game of 2016. (I wrote the rule book.)
---
Thank you for your interest in my website.
If you would like to contact me, send e-mail to jah at this address (JasonAHolt.com).